City of Berlin Installs Retaining Wall
at the Main Street Bridge October 2012
City Council Green-Lights Seawall, Boat Ramp Project 
Article reprinted with permission from the Berlin Journal
Thursday, June 20, 2013
By Tony Daley
Berlin alderpersons agreed June 11 to allow Public Works to move forward on starting a seawall and ramp, if bids come within allowable cost, in order to expedite the riverfront project before the end of the 2013 boating season. Council's Bobbie Erdmann made a first motion, which was seconded by Jim Lehr, to allow Brian Freimark to proceed without another council session. The city of Berlin let bids for concrete slab, wood deck, and green-treat timber, Thursday, June 13. With respect to bid specs, Schramer urged, "We need to do whatever we can to get this done for the boating season," although Freimark said builders could not construct fast enough to have a riverside structure ready for June 29 Independence Day festivities in Berlin.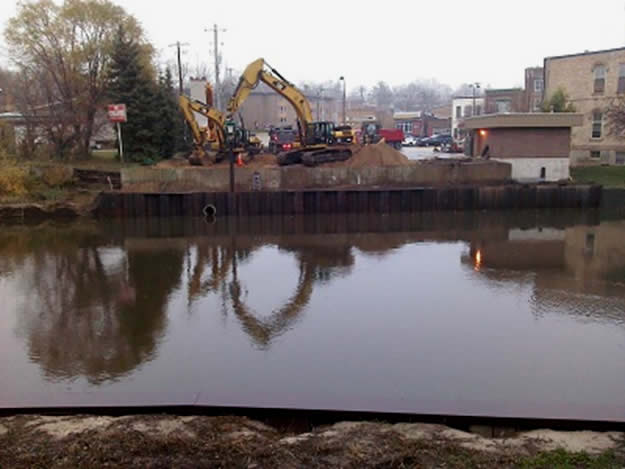 Comments by Dick Schramer:
A very dedicated crew of Dave Peck and friend Chuck Unger, Ron Harke, Jeff Weir, Greg Bins, and Dick Schramer worked to install the docking timbers, rub strips, and ladders on the new seawall just north of the main street bridge in Berlin. All that is left are 4 rub strips and 12 post caps that are ordered. Dave Zeitlow is contracted to build the handicap ramp from the city parking lot to the lower terrace where the docking timers are.
The old concrete wall was deteriorated beyond repair and the City is installing new steel sheeting.
Plans are in the works to make it boater friendly by the Berlin Boat Club. It will include wood posts, cleats and ladders every so often for low water or small boats.
The new wall is located just below the first bridge in Berlin. Next year you will be able to tie up your boat and be right down town for shopping and food.
Just another way the Berlin Boat Club is keeping "Berlin on the Fox".